No Matter the Procedure,

We'll offer a comfortable
solution

Millions of people all over the world avoid visiting the dentist. At Tandara Dental Centre, we want to remove any possible obstacles to you receiving the high-quality care that you need to improve your oral health.

Some of our patients felt nervous or anxious before their appointment, but soon felt at ease thanks to our warm, knowledgeable and highly skilled team. There's no reason to delay your dental care when there are options available that keep you comfortable during any procedure such as dental implant surgery or wisdom teeth extraction.

Do you already know what you need to book for?
We'll Find

The Sedation Option That's Right For You

We'll take all the time necessary to listen carefully to you and fully understand the issues you might have with seeing
a dentist. By building confidence, trust and honesty, we hope to help you overcome any phobia you have.

Generally, sleep/sedation dentistry in Gosnells is appropriate for those who
Dislike the needles, injections, smells, noises and tastes associated with dentistry

Fear dental visits and have complex needs

Have had negative experiences at the dentist in the past

Have teeth sensitivity issues during cleanings

Would like the majority of their procedures done in a single visit
Happy Gas (Nitrous Oxide)
Nitrous oxide is a simple way for you to relax during your treatment.
You'll have a hood placed over your nose, then breathe in a mixture of nitrous oxide and oxygen. We'll adjust the level of the gas as needed to ensure you feel comfortable enough before we begin any procedures.
You'll be fully awake throughout, with a possible sleepy or detached feeling and tingling in the toes and fingers. We'll talk to you during the entire treatment to be certain that you're not experiencing any anxiety. To wrap up, you'll breathe in 100% oxygen for a few minutes for a rapid recovery. You can even drive yourself home after a resting period.
IV Anaesthetic (Sleep Dentistry)
When a deep level of sedation is necessary, IV anaesthetic is available. This safe sedative is appropriate for those requiring complex work or with special needs.
Accredited Anesthesiologists will be booked in to put you to sleep and wake you up before and after your treatment. You'll be fully informed about what you can expect before, during and after treatment.
Are you putting up with the inconvenience of a missing tooth?
Discover a permanent solution for a healthy natural smile in this free Ebook. Enter your details to download the Ebook now.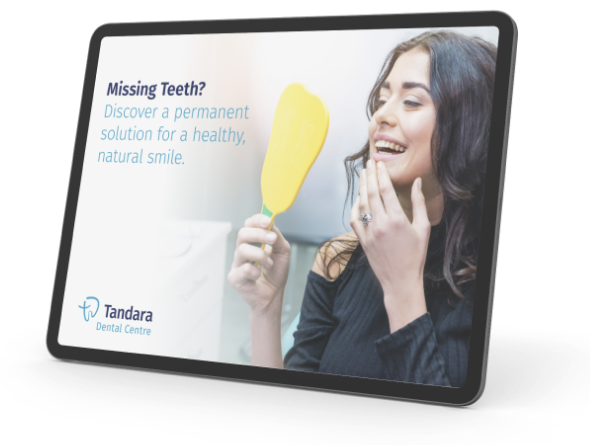 Do you want to discuss this with us?
From providing preventative check-ups to emergency care, our dentists and team offer outstanding care. If you'd like to find out more about sedation and sleep dentistry please contact our practice today!